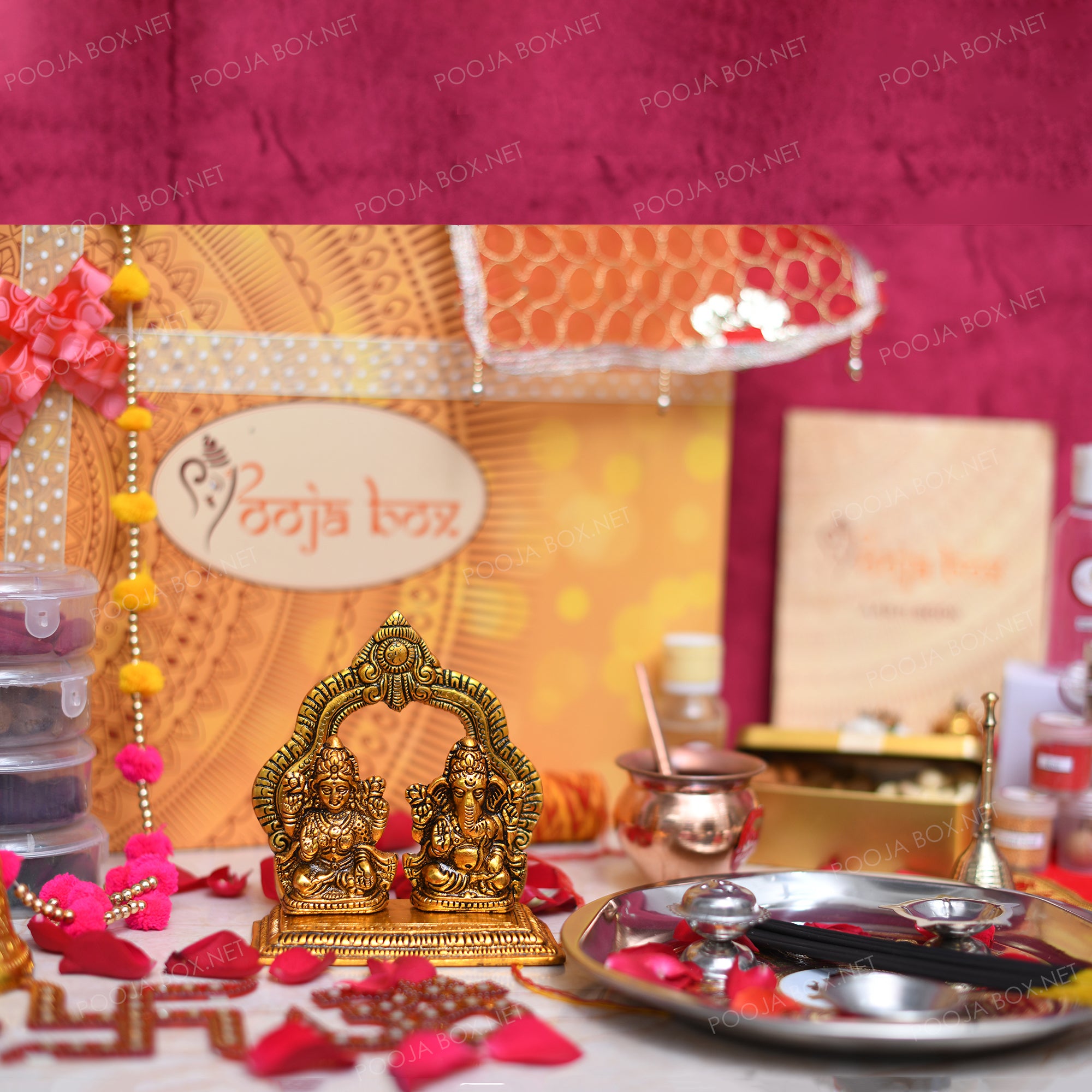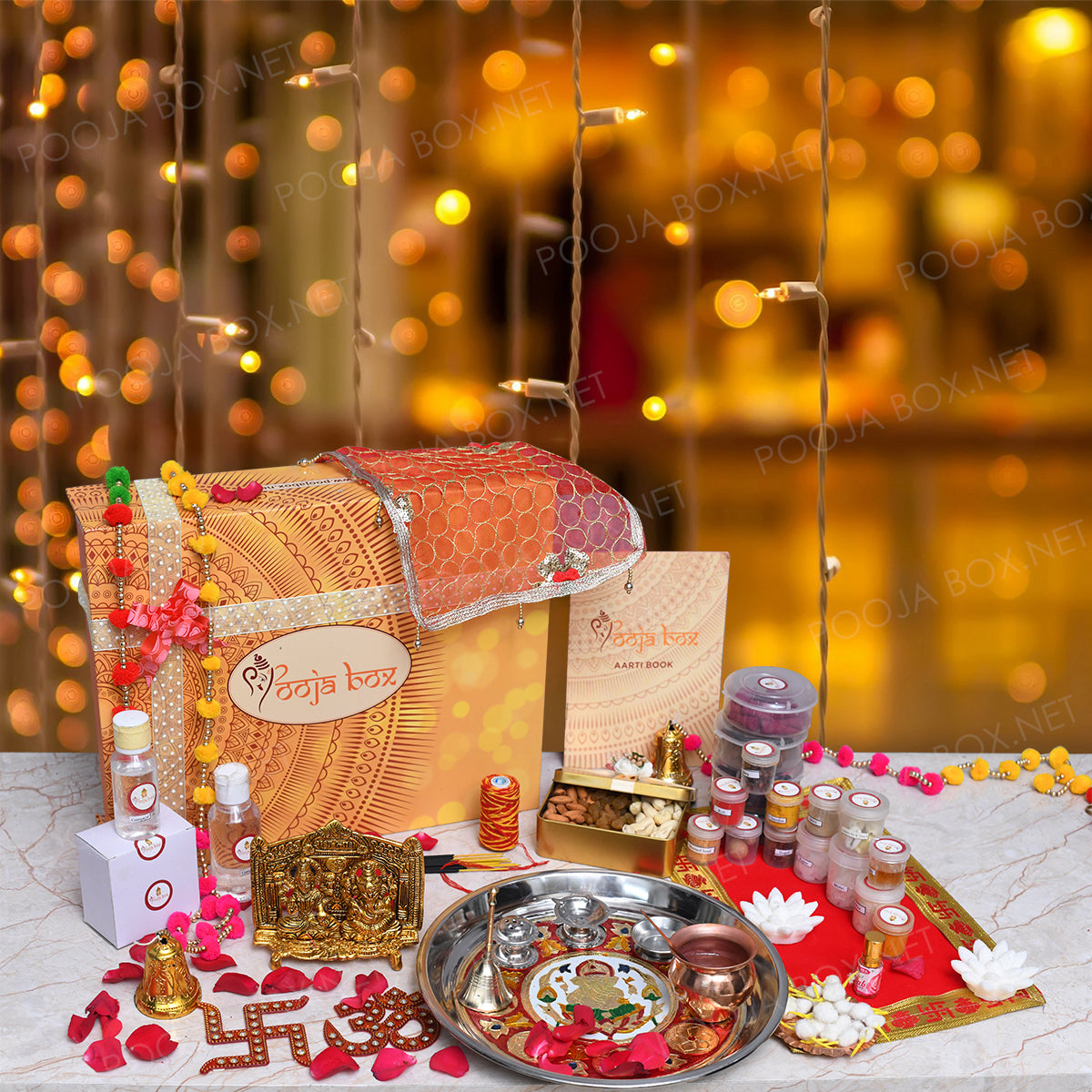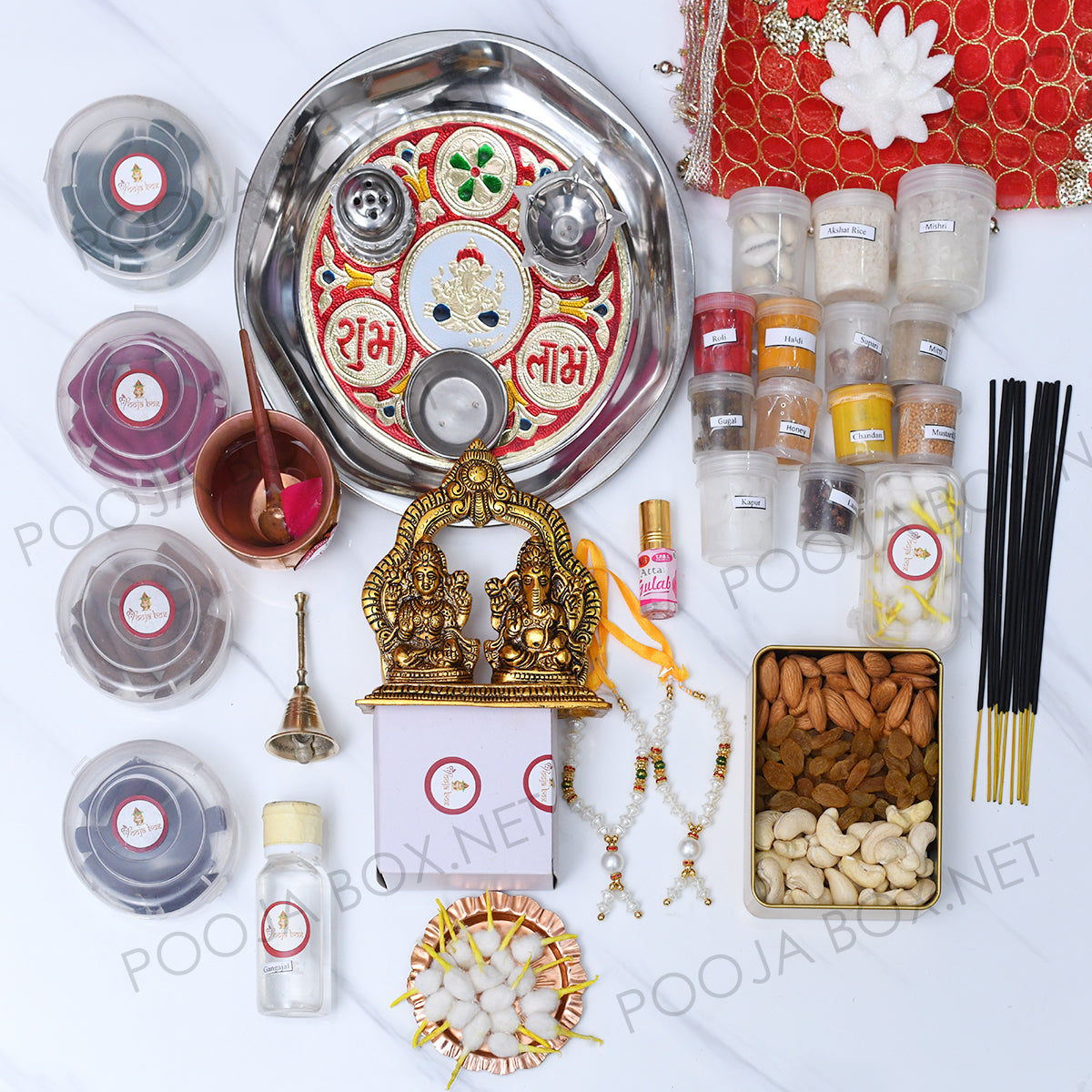 Shubh Labh Diwali Pooja Box
Requests for return of product have to be placed within 5 days from the date of delivery. Used Item not be accepted for return and should be packed in original packing. Return shipping charges will be borne by the customer Payment will be reverted in account via bank transfer For COD orders refund amount coupon code will be generated to use in future To return your product email us at care@poojabox.net
Add this Diwali Pooja Box to your shopping list for this festive season. The classical finished pooja box design looks very attractive. Add elegance and charm to your pooja room with this pooja box that comes with diya, incense holder, lota and achman and much more. Perfect for worship places as well as special occasions festivities.This pooja box is an ideal gift that you can give it to your family and friends on occasions like anniversary, housewarming, wedding, apart from Diwali too.
Shubh Labh Thali With Darbar Laxmi Ganesha Pooja Box -Steel thali Small , Dia stand, Steel bowl, Ghanti & Agarbatti stand. Aasan (red velvet cloth with gold border) Dhoopbatti (4 flavour), Agarbatti (4 flavour), Dry fruits in aluminium box (4 type), Colourful Dia (4), Dia bati box, Roli, Attar, Gangajal, Moli, Akshat rice, Chandan paste, Supari, Kapoor, Laung, Haldi, Laxmi Kodi Shells, Match box, Rose water, Honey, Mustard seed, Hawan Samagri, Gugul, Mishri, Mitti, Arti Collection Book (all type of Arti), Om & Swastik symbols, Artificial Mala all packed in wonderful Poojabox. product box size as 24x19x5cm and packaging dimension as 25x20x6cm.
This Beautiful Box consists of:-
1)  Gold Laxmi & Ganesh Idol
2)  Agarbatti Box
3)  Silver Thali
4)  Lota
5)  Achmani (chammach)
6)  Agarbatti stand
7)  Diya stand
8)  Brass Bowl
9)  Brass Bell
10) Aasan (red cloth)
11) Designer chunari
12) Dhoop
13) Dry Fruit in box
14) Earthen Colour Full Dia
15) Dia Bati
16) Roli
17) Attar
18) Moli
19) Gangajal
20) Akshat Rice
21) Chandan
22) Supari
23) Kapur
24) Laung (Cloves)
25) Haldi (Turmeric Powder)
26) Laxmi Kodi Shells
27) Match Box
28) Rose Water
29) Honey
30) Mustard Seed
31) Hawan Samagri
32) Gugal
33) Mishri
34) Mitti
35) Arti Book
36) Om & Swastik
37) Artifical Mala
38) Exclusive Gift Box
Celebrate this Diwali with specially designed Pooja Box and bring home the wealth and prosperity. Happy Diwali.
Good stuff
This a good product..Very good option for gifting and person use..
Look good too.
Very good product for Gift someone