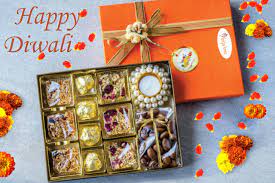 Corporate Diwali Gifts Online - Spread Happiness
Diwali is the festival of light which brings Lord Laxmi and Lord Ganesha together in our home and fills our life with prosperity and happiness. It is remarkable that Diwali is the major religious and  most auspicious festival of Hinduism. People celebrate this festival as a victory of good over evil by lighting diyas, decorating homes with flowers and distributing sweets to loved ones and neighbors. 
Diwali Corporate gifting is a tradition of Diwali which is celebrated by employer employee clients and customers in the corporate world by exchanging gifts and congratulating each other. 
Whom to give corporate gifts !
Employee :- Employees are the pillars of an organization or business that invest the most to grow. An ambitious and passionate human resource must be treated specifically and it's the employer's responsibility to get the best Corporate Diwali Gifts For Employees so that they know how much you care about them. 
Client : A client has the power to bring your company back to top from the most competitive businesses. A trending corporate Diwali gift for clients is the best thing you can do for them and let them think that you are actually an entrepreneur in today's time. 
Business Partner : A partner or group of partners with whom we can work together to get the work done and increase the business opportunities with profits. They are the ones with whom we spend most of our time more than our family and it's like a second family to us. Celebrating Diwali with your business partner without a gift can not be complete so a corporate gift for a corporate partner must be a good choice for you. 
Why is Diwali Corporate Gifting Important? 
Due to the extension of the pandemic, competition has increased in the market. To be on the top of everyone and make the professional bond stronger with your clients, dealers and business partners, corporate gifting is the important aspect and also helps you to recognize your brand in this business world. Corporate gifting is important to showing appreciation to your hard working employees, to make a long term relationship with clients and spread health & joy to the corporate world. 
Pooja Boxes & Corporate Diwali hampers - Unique Corporate Gifts Online
We live in a world where gifting is a part of daily life and it helps to make people closure. Corporate Diwali gift is also a part of gifting and to make this awesome we come up with unique gift ideas for corporate Diwali gifting. We have pooja boxes, corporate Diwali hampers, customized corporate gifts, Diwali gift hampers, customized pen stands, corporate box and much more to choose. Visit our traditional to trending corporate gifts that fulfill your all demands for corporate gifting. Let other people love to receive your gift. 

Cash on Delivery
We offer cash on delivery all over international.

SECURE PAYMENT
Our Payment are 100% Secure on our online Payment Gateways.

Speedy Delivery
We ensure express shipping & fast delivery.

Easy Return
Hassle-free returns/exchange within 5 days of delivery.